Overview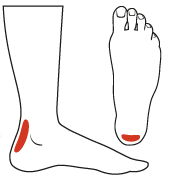 An Achilles tendon rupture is when part or all of your tendon is torn. The Achilles tendon connects the calf muscle in your lower leg to your heel bone. It allows you to point your foot down and to rise on your toes. A tear is caused by an injury or increased pressure, such as during sports or a fall. The following may make your Achilles tendon weak or stiff, and more likely to tear. A past tendon tear. Lack of physical activity. Abnormal bone structure in your foot. Obesity. Older age. Medicines, such as steroids and antibiotics.
Causes
An Achilles tendon rupture is often caused by overstretching the tendon. This typically occurs during intense physical activity, such as running or playing basketball. Pushing off from the foot while the knee is straight, pivoting, jumping, and running are all movements that can overstretch the Achilles tendon and cause it to rupture. A rupture can also occur as the result of trauma that causes an over-stretching of the tendon, such as suddenly tripping or falling from a significant height. The Achilles tendon is particularly susceptible to injury if it is already weak. Therefore, individuals who have a history of tendinitis or tendinosis are more prone to a tendon rupture. Similarly, individuals who have arthritis and overcompensate for their joint pain by putting more stress on the Achilles tendon may also be more susceptible to an Achilles tendon rupture.
Symptoms
It happens suddenly, often without warning. There is often a popping sound when the tendon ruptures. The patient usually feel as if someone has kicked their heel from the rear, only to turn around to find nobody there. There is acute pain and swelling in the back of the heel due to bleeding from the tendon rupture. The patient will have difficulty walking as they cannot toe off without pain. This causes them to walk with a limp.
Diagnosis
A physician usually can make this diagnosis with a good physical examination and history. X-rays usually are not taken. A simple test of squeezing the calf muscles while lying on your stomach should indicate if the tendon is still connected (the foot should point). This test isolates the connection between the calf muscle and tendon and eliminates other tendons that may still allow weak movement. A word of caution, Achilles tendon rupture is often misdiagnosed as a strain or minor tendon injury. Swelling and the continuing ability to weakly point your toes can confuse the diagnosis. Ultrasound and MRI are tests that can assist in difficult diagnosis. Depending on the degree of injury, these tests can also assist in determining which treatment may be best.
Non Surgical Treatment
A physical therapist teaches you exercises to help improve movement and strength, and to decrease pain. Use support devices as directed. You may need crutches or a cane for support when you walk. These devices help decrease stress and pressure on your tendon. Your caregiver will tell you how much weight you can put on your leg. Ask for more information about how to use crutches or a cane correctly. Start activity as directed. Your caregiver will tell you when it is okay to walk and play sports. You may not be able to play sports for 6 months or longer. Ask when you can go back to work or school. Do not drive until your caregiver says it is okay.
Surgical Treatment
Your doctor may recommend surgery if youre young and active, or an athlete. However, this will depend on where your tendon is ruptured. If the rupture is at, or above, the point at which your tendon merges with your calf muscle, for example, surgery may not be possible. There are three main types of surgery to repair a ruptured Achilles tendon. Open surgery. Your surgeon will make one long cut in your leg to reach the tendon and repair it. Limited open surgery. Your surgeon will still make a single cut but it will be shorter. Percutaneous surgery. Your surgeon will make a number of small cuts to reach the tendon and repair it. In all types of surgery, your surgeon will stitch the tendon together so it can heal. Each type of surgery has different risks. Open surgery is less likely to injure one of the nerves in your leg for example, but has a higher risk of infection. Ask your surgeon to explain the risks in more detail. After your operation, you will need to wear a series of casts or an adjustable brace on your leg to help your Achilles tendon heal. This will usually be for between four and eight weeks. There is a chance that your tendon will rupture again after the operation.